Furnace Games Convention, 12th & 13th October 2019, The Garrison Hotel, Sheffield UK
Furnace is an annual tabletop roleplaying game convention in Sheffield UK, held at the Garrison Hotel. The Hotel is part of a Victorian barracks, providing atmospheric gaming rooms in the cells of miscreant soldiers. For more than a decade, 70+ people have come together and enjoyed a relaxed, friendly, game packed weekend amongst the seven hills of Sheffield.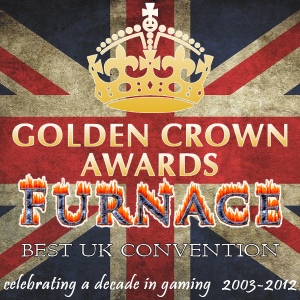 If you love tabletop RPGs then you'll love Furnace. Over our award winning gaming weekend there will be a schedule of five gaming slots, packed with high quality games run by some of the best Gamemasters in the country (because we say so).
The hotel provides comfortable rooms, good food and a warm welcome. We are situated in the Morrison's Barracks, with plenty of places to park, with food and snacks available in the nearby supermarket. Furnace is a great weekend away for some good games and welcoming fellow gamers.
We run a welcoming and inclusive series of conventions that attract a wide spectrum of people, united in their love of tabletop RPGs. It is important to us that all of our delegates are respectful of others, accepting of the diversity that we bring and that we provide a fun gaming environment in which everyone can feel safe and enjoy themselves. Everyone involved in Furnace and our other conventions must abide by our Harassment and Inappropriate Conduct Policy.
The organisers of Furnace, Seven Hills, Revelation and North Star have reflected on the statements by Mandy Morbid and others about Zak Smith.
As a result, we have made the following statement:
TL;DR: Please do not submit games where Zak Smith is the primary author to be run at the various Garrison Cons.