Furnace Games Convention, 7th & 8th October 2017, The Garrison Hotel, Sheffield UK
Furnace is an annual tabletop roleplaying game convention in Sheffield UK, held at the Garrison Hotel. The Hotel is part of a Victorian barracks, providing atmospheric gaming rooms in the cells of miscreant soldiers. For more than a decade, 70+ people have come together and enjoyed a relaxed, friendly, game packed weekend amongst the seven hills of Sheffield.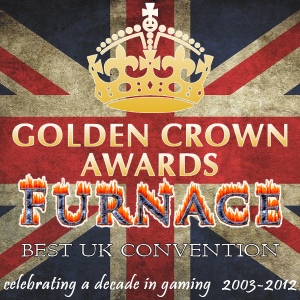 If you love tabletop RPGs then you'll love Furnace. Over our award winning gaming weekend there will be a schedule of five gaming slots, packed with high quality games run by some of the best Gamemasters in the country (because we say so).
The hotel provides comfortable rooms, good food and a warm welcome. We are situated in the Morrison's Barracks, with plenty of places to park, with food and snacks available in the nearby supermarket. Furnace is a great weekend away for some good games and welcoming fellow gamers